Bootstrap Development Services
What is the definition of Bootstrap Development Services?
Bootstrap Development Services is a front-end framework. For designing fast, responsive, and intuitive web applications using HTML, CSS, and JavaScript. Similarly, typography, grids, forms, buttons, navigation, and tables are all simple with CSS and HTML support and custom jQuery plug-ins, and responsive layouts. Hence, Bootstrap is a prominent framework that delivers speedy, mobile-friendly capabilities and is supplied as an open-source technology platform by top social networking business Twitter. Because the Bootstrap application is mobile agnostic, it provides a better user experience when browsing websites and applications. Numerous reusable components for navigation, pagination, labels, alarms, and other features aid in the rapid building of a valuable and appealing web application.
Why is Bootstrap used by the most successful businesses?
Coding can be complicated if you don't have a background in web development, but, programs like Bootstrap make coding easier. Because this tool does the most of the work for you, so you only need a basic understanding of HTML and CSS. Hence, it's a fantastic way to obtain the benefits of having a customized landing page without having to learn how to code.
Customizable page elements
The ability to customize templates is one of Bootstrap's most important features. When creating landing pages, you choose the font, code, buttons, forms, tables, labels, and other most appropriate elements for your company. Because you want your landing page to stand out from the crowd, customization is a vital element of the process.
Incorporates Responsive Design Elements
Bootstrap has responsive design characteristics that allow your landing pages to look good no matter what device someone uses to visit them. Thanks to responsive design, visitors will enjoy the most incredible possible experience on your site. The code for automatically resizing images based on screen size is already included in Bootstrap. This ensures that your photographs look excellent on every device that someone uses to visit your site.
Allows for rapid page creation

Bootstrap makes it simple to construct and launch a landing page. You can utilize pre-made coding blocks to assist you in setting up your pages with this tool. It also has CSS-Less support and is cross-browser compatible. This allows you to develop a landing page faster by saving time on code. You can also purchase ready-made themes from Bootstrap.
Allows for the addition of visual elements
Successful landing pages have eye-catching visuals that draw visitors in and encourage them to learn more. You may use Bootstrap to make visually appealing landing pages that appeal to your target audience. The best aspect is that these elements are responsive, which means that they will look great on any device.
Benefits of our Bootstrap development company
We have a team of incredibly talented bootstrap developers at Salesqueen who are experts in a variety of domain-specific services. We created critical interface elements that make the overall interface easier to use and navigate. Our developers are well-versed in the construction of responsive themes that work on any device. HTML and CSS Development design templates are used to create buttons, fonts, typography, tables, and grids for websites and applications. We provide the best solutions for all business needs thanks to our knowledge and professional team. Salesqueen's bootstrap services provide more efficient and speedier websites that are compatible with a wide range of mobile devices as well as PCs, laptops, and tablets. A mobile-friendly Bootstrap Creative design is also available.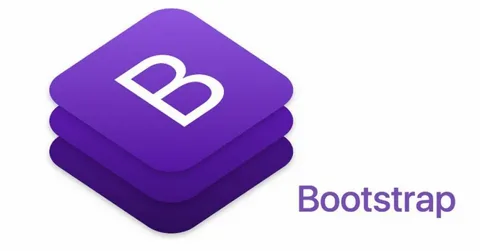 Our Bootstrap Development Services' Advantages
The simplicity of the Bootstrap framework is one of the reasons behind its popularity. It's plain and simple. It gives newcomers a learning curve that no other framework can match.
One of Bootstrap's numerous advantages is that it can be used with practically any framework. This functionality also allows you quick access to the frameworks, and you can use mark-ups to implement any of the pre-defined Bootstrap classes.
Bootstrap is used by many developers around the world due to its unrivaled quickness. It has features that allow for rapid development. Other frameworks need you to start coding from scratch, whereas Bootstrap gives you ready-to-use coding blocks to construct your website.
Bootstrap's layout includes 12 column grid styles that are responsive and support offset and nested items. As previously indicated, it also can remove the responsive element and switch to a fixed layout style.
It has a lot of features in its base style. HTML components for working with graphics, fonts, and forms are among these features.
This includes dropdowns, notifications, and navigation bars, among other things.
Support and Documentation
It comes with a suitable license and documentation for novices.
Bootstrap is a framework that may be customized. It can be adjusted as needed, depending on the specifications of your project.
Bootstrap is responsive, which means it creates a fluid grid layout. You can organize your website using the fluid grid style to fit the dimensions of a mobile device.
It offers a well-defined consistency throughout the app or website system.
Bootstrap updates are more frequent than the other frameworks. All Bootstrap's updates are custom-made, including those that provide cross-browser and cross-device compatibility.
Bootstrap Web Development Service's Features
Today Bootstrap is utilized in the development of millions of websites all around the world. Bootstrap offers a lot of options for users to select from. Some of these characteristics are:
Aside from all of these advantages, it also allows you to disable responsiveness to accommodate fixed, non-flexible functionality. In a nutshell, because of its various useful features, Bootstrap holds a prominent place in the developer community for the development of responsive web apps. It offers multi-channel, multi-device development on desktops, laptops, mobile phones, tablets, and other portable devices.
Bootstrap, on the other hand, offers the benefits of a low-cost solution. Salesqueen is committed to offering the best development services possible, leveraging our domain expertise and years of industry experience. The following are some of our Bootstrap development services:
Why choose us for Bootstrap development services?
Salesqueen can boast a delighted and distinguished customer base after creating a massive number of websites and online applications using Bootstrap Development Services. All of this is in service of our goal and our talented workforce, which is driven to go the extra mile for our clients and produce high-quality projects on time. Our staff works around the clock on each project to gather customer requirements, offer solutions, and design new solutions that assist our customers stay ahead of the competition.
We service various industry verticals as a top Bootstrap development firm with demonstrated skills in Bootstrap web development. Since Bootstrap's initial release, our talented Bootstrap developers have served a diverse spectrum of clients. You can employ Bootstrap developers from Salesqueen to fulfill your industry-specific company requirements, regardless of your industry type. We can serve organizations of any size or style, making us one of India's most dependable Best Bootstrap development companies.
What is our manner of operation?
Salesqueen assists you in marketing your business by creating an online presence for you. Our expert team helps you enhance client interactions and expand your business faster.
We plan and assess the project requirements, goals, and timetables first, depending on your project. This is an important phase in any Bootstrap web development project, and it varies a lot based on the project type.
We feel that communication is essential when working on projects remotely at Salesqueen. While working on projects, we adhere to the agile approach, which involves daily standups via platforms such as Skype and Hangouts. The majority of our project planning is done in sprints and on dependable systems.
We write high-quality, well-structured code that follows industry standards. We keep track of our code and ensure that it is always commented on. Our experts adhere to best practices and provide our clients with a manageable codebase to maintain.
Quality Assurance and Testing
We recognize the need for quality assurance and testing before delivering a project to a client. We employ an in-house manual testing staff to carry out rigorous testing processes and current CD pipelines to put up the unit and end-to-end tests.
At Salesqueen, our experts help you choose the best deployment options for your projects and then implement them. Several considerations are made during this step, including loading speed, server security, and many other critical aspects of deployment. We also provide maintenance and support services after deployment.
Why Should Salesqueen Be Hired?
We're committed to providing superior quality Bootstrap development services and fulfilling our distinguished clients as a client-centric Bootstrap Development Company with unrivaled competence in Bootstrap web development. We're a top-rated company by our valued customers, whether for work quality or project delivery on time. Some of the reasons why our clients chose us as their Bootstrap theme development partner are listed below: 
Our websites and applications are designed to provide an exceptional and secure user experience while also increasing conversions.
Cross-device compatibility

Cross-device compatibility means that your website runs smoothly on all devices and is compatible with all screen sizes.
Sophisticated Security & Scalability
Our seasoned professionals offer optimal website safety and scalability by incorporating advanced security methods.
We offer end-to-end source code security as well as careful testing to ensure that your apps are trouble-free to operate
Complete Requirement Analysis
Effective analysis produces successful outcomes. We make sure to deliver the best and most trustworthy web development solution according to your business standards while discussing your business requirements
End-to-end website development
From UI/UX design to web deployment, our experts provide complete website development solutions.
Cross-device functionality

Cross-device functionality implies that your website operates seamlessly on all smartphones and is compatible with all screen sizes and versions of the devices.
Dedicated Project Account Manager
We use dedicated Account Managers as your sole point of contact throughout the project.
Extended Program Protection Plan
We've got you covered with comprehensive assistance and maintenance if you find a security flaw or bug in your software.
Our skilled team members at Salesqueen provide one of the best Bootstrap development services based on the needs of our clients. Because we offer the best-in-class Bootstrap web design and development services to all of our clients. Our mission is to fill the market with highly original and dynamic applications. We promise to strive hard and fulfill your requirements. Our high-quality services will undoubtedly help you grow your business and achieve new heights. So, to get responsive websites and applications, contact skilled Bootstrap developers from Salesqueen. We are always available and ready at your service.