The ideas and syntax of Java web development are based on the programming languages C and C++. It is quite simple to move Java code from a notebook computer to a mobile device after you have created it. It's also vital to note that Java is not the same as JavaScript. Javascript does not require compilation, whereas Java code does. Javascript can only be used in web browsers, but Java can be used elsewhere. At a breakneck speed, new and improved software development tools are displacing incumbent technologies that were once deemed to be vital. Java's endurance is astonishing in light of this constant turnover; more than two decades after its creation, it is still the most popular language for application software development, with developers preferring it to languages like Python, Ruby, PHP, Swift, C++, and others. 
benefits of java web development
Java is a general-purpose, object-oriented programming language that can be used to construct programs and applications on any platform. Java offers several benefits that encourage you to remain with it.
Let us look at the advantages of adopting the Java programming language
Searching for a Java Development Firm?
The firm partners with Java Development Companies to achieve certain business objectives. Furthermore, the customer may be in a rush because their revenues are contingent on the app's delivery time. When a company wants to take over a specific niche and hires a Java Software Development Company to help them, sequential like "time to market" is important. As a result, the Java Developer Company must design an efficient procedure that involves the client to optimize the workflow and give the quickest time to market possible. That's why, at Salesqueen, we use Agile approaches to keep the Java development process flexible and productive. We can design an appealing user interface that combines creativity and high-end functionality to achieve success.
If the Java Development Company takes an attempt to gain a deeper grasp of the client's domain, the project's chances of being completed on time are increased. It also entails keeping a risk diary and properly managing risks. We believe that all stakeholders should avoid jumping into the development process without first gathering sufficient information about the environment, project goals, and consumer expectations. We will not allow you to disappoint in any matter with regard to the firm.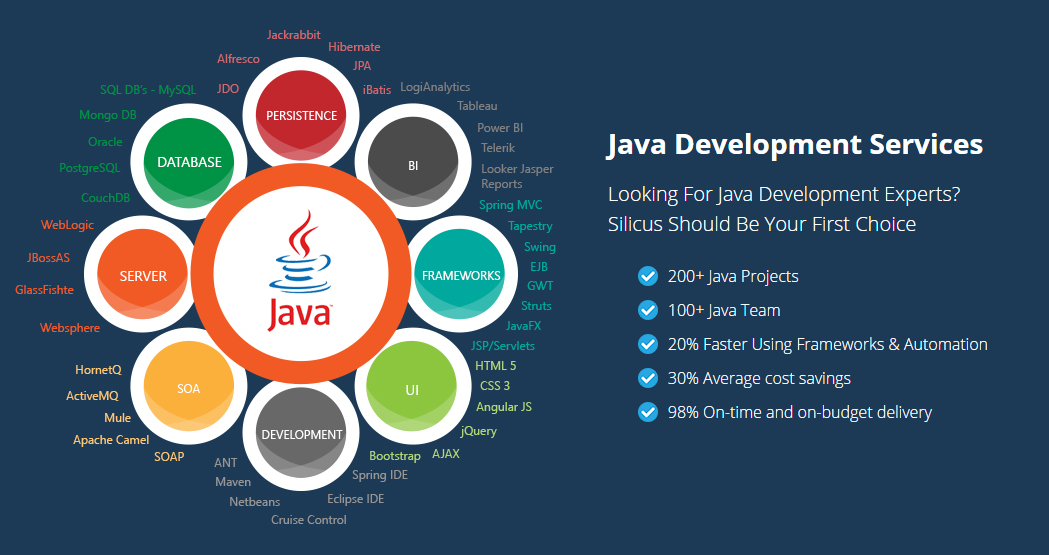 As a result, Salesqueen has a well-established procedure for investigating the project's domain and enhancing mutual understanding with the client by collecting requirements, discussing prototypes, and other activities that aid in the successful delivery of Java Software Development Services.
Our Java software development services are designed to provide complete support to clients and enterprises all over the world, from architecture selection to custom Java development, migration, upgrade, maintenance, and support, among other things.
Our Java Development Services include
Java Software Development on Demand
Our Java experts, who include UI/UX designers, developers, and QA testers, will construct an outstanding Java application that meets your needs. They can design complex financial systems, ERPs, large-scale enterprise applications, and other high-security software solutions. Salesqueen develops solutions that are adaptable to your company's demands. The company is much flexible with any demands you have in your business
Product Development / Engineering
Use Grails framework, Struts, Spring, Hibernate, Liferay, Bigdata, Hadoop, and EJB to construct substantial Java online services that include unique product creation employing the newest technology trends
Java Support and Maintenance
Java maintenance and support services are dependable and cost-effective, allowing applications to run smoothly to achieve corporate goals and derive continuing value from the current infrastructure. Our company will provide better care and protection for your application.
Our expert Java engineers at Salesqueen can help you set up and run your Java app with ease. We provide customer support and maintenance services to ensure your app's agility, performance, and compatibility. We offer full-service application support, application administration, and performance management
The Data Science hacks, tips, and tricks course has been designed such that each hack can be studied independently. The movies are demonstrations of the hacks, tips, and techniques, which are designed to offer you efficient code to solve problems. The movies are self-explanatory and feature seasoned Java programmers who provide best-in-class Java/J2EE programming services for enterprises' mobile and web app needs
We create Java Enterprise solutions by utilizing the J2EE technology to its full potential. We're a dependable corporate service provider that creates feature-rich apps for small, medium, and large businesses. Our applications give your company a competitive advantage
Java Development for Businesses
Invest in enterprise Java development to acquire enterprise-grade apps that are scalable, secure, and personalized to meet the most complex business requirements
End-to-end Java web application development services for banking, healthcare, retail, and other industries to construct flexible, secure, and scalable websites. This website will help you to attract customers for the development of your business
Our Java developers are well-versed in Java web architecture and the engineering environment, allowing them to provide cutting-edge Java software development services. To create web solutions, our developers apply the best multithreading, user interface, and resource management approaches
Java Integration and Migration
Improve the speed, security, stability, and cross-platform capabilities of your business application by migrating easily from traditional web platforms to the latest Java Technology. Data Science hacks, tips, and tricks course has been designed such that each hack can be studied independently. The movies are demonstrations of the hacks, tips, and techniques, which are designed to offer you efficient code to solve problems. Videos explain themselves.
We can help you migrate your current business application platform to Java. At salesqueen, we are a full-service Java application development firm that can assist with migration and Java system integration. Here, we handle all of the time-consuming tasks of importing, exporting, and transferring your data to Java while maintaining high quality
Our Java programming service specialities
Why should you use Salesqueen for Java?
We have a staff of highly qualified and experienced Java developers who can work on any project, regardless of its complexity. Our Java experts follow the best development methods to complete each project accurately and on schedule. These are the best programming methods in this field that you can access
Authentically Agile Methodology
We take an agile approach to our projects and use the best development plans available. We tackle the intricacy of software development with extended assistance and devotion since we believe in the philosophy of quality service
Our methodologies and approaches adhere to ISO 9001, CMMI-3, and other industry standards. With every project we deliver, We ensure that every project we produce is of the highest possible quality, and we also take steps to protect project confidentiality
Practices in Modern Technology
Java is a one-stop shop for all of a company's technology needs. Give your company a modern makeover and earn a competitive advantage. On-priority our subscription support packages are tailored to your specific requirements. Our professionals are available around the clock to provide dependable assistance
Models of Flexible Hiring
You'll have access to flexible recruiting models that will allow you to hire developers on an hourly, part-time, or full-time basis to work on-site or off-site
Security Agreement for Source Code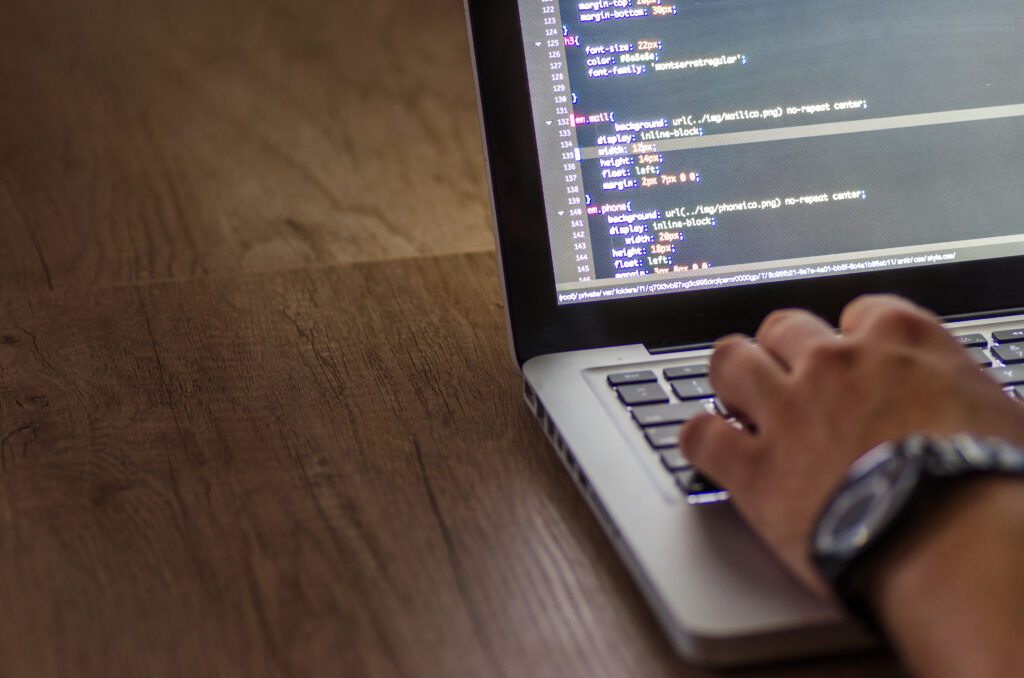 Salesqueen is a one-stop shop for outsourcing Java development services if you're looking for Java developers. We've completed Java projects in a variety of niche markets. We are one of the best Java development businesses, with a high rate of repeat business. We recommend the most appropriate engagement approach and resources for the project requirements.
Salesqueen, as an offshore Java development services provider, offers various engagement plans for software development projects that are tailored to the needs of the client. Get a price based on our custom-made models if you're looking to hire a Java programmer team for your IT project. We present you with our project proposal as well as many involvement methods from which to pick. We get started right after the contract is signed.